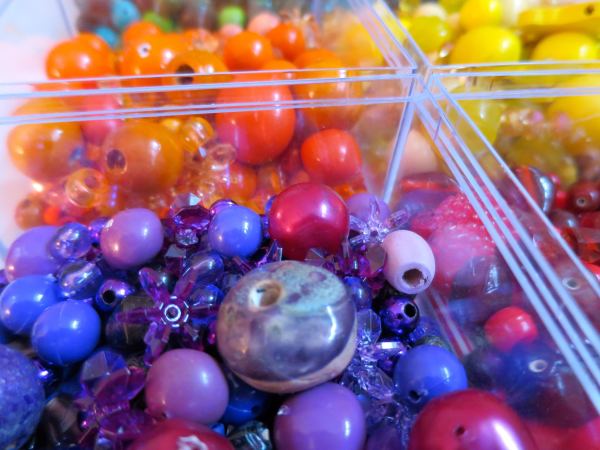 I used to spend next to nothing on organizing solutions. Old cardboard boxes, plastic packaging, and even tin cans were free and easy. But once we settled into a house, I realized that some of these solutions didn't work long-term. Our stuff may have been divided into categories, but the system was messy and difficult.
When our storage moving boxes began to look more like beanbags,  I was ready to try something new, as long as it wasn't too expensive. I remembered a guest post here on three qualities of good organizing solutions:
Stackable
See-through
Square
You can spend a lot of money on organizing structures, said Nihara of Doing Too Much in that post, but simple, inexpensive containers sometimes work better. As we settle into this house and gradually straighten up our systems, I had a chance to test this theory.
We started with the garage.
1.  Stackable
We had always stored hand-me-downs and out-of-season supplies in cardboard boxes. But when I piled the old boxes on top of each other in our new garage, they began to tilt and tumble.
Stackable plastic bins used to seem like a splurge, but then I realized that it was OK to invest in a long-term solution that would be safer and help us use what we have. I did some research on large stackable plastic bins and found that IKEA's were the best deal (34-gallon clear Samla box with lid, ikea.com).
I love our new containers. Having durable boxes with lids has made it so much easier to keep kids' clothes organized by size and season and ready to use. We are so lucky to have friends that drop off clothes to us, and with our new system, I can file them away easily.
Applying the see-through principle seemed smart, especially in a low-profile place like the garage. In fact, it's been a joy to be able to instantly find the Halloween pumpkins, the beach toys, or the baby clothes to give away.
And if I stay on top of regular purging, I always have a few empty bins to contain special projects such as candle-making or curtain-sewing.
2.  See-Through
I wasn't so sure about the see-through principle, because I like clutter-free, visually calming spaces.  But then I realized that hiding clutter makes sense in spaces you want to be beautiful, such as the living room or bedroom, but almost everywhere else, it's more zen to see what you need.
Black square baskets used to corral our office supplies when we kept them in our bedroom near the desk. But when we moved the supplies to an old pie chest in our new kitchen, the baskets became a pain. Dark, piled on top of each other, and hard to label, they made us root around just to find a pen or a flash drive.
This fall I was motivated to change the system to prevent re-buying school supplies that we already had.  After measuring the chest, I looked around for see-through solutions.  Clear stacking drawers were too expensive, so I settled on shoe boxes (above, $1.89 each at the Container Store).
The stackable nature of these boxes means that I can maximize the space we have to work with. And because they are see-through, the whole family knows what's inside each box and how much is left.
3.  Square
By far the most satisfying and fun re-organization project we have done so far was with our beads.  That simple organizing act has inspired a cottage industry in our basement, where busy elves have been working hard making Christmas presents.
We used to store art materials in bins under beds. Our hodge-podge collection of beads and baubles were in plastic bags or in boxes with lids that had broken off.
A mini-dream was realized this year when we finished a corner of our basement into a craft and sewing room. I thought I was going to want all of our supplies out of sight, in drawers and behind cabinet doors, so it wouldn't feel cluttered and overwhelming.
But after using the craft room a bit, I realized that we were more inspired to create when our materials were out in the open. The key was to make it pretty.
So I removed the doors on a cabinet to create open shelves.  Then my daughter Sofia and I went shopping for containers. We had to talk ourselves down from the most beautiful, nesting, lucite boxes and settled on simple square Amac boxes (above and in lead photos). At under $3 each, they felt both economical and luxurious.
Their flat lids and square corners help us use every inch of precious real estate on the shelves.  I did use thrift store vases and glasses to contain pencils and crayons, but I noticed how square or rectangular storage containers could be super space-savers anywhere — in closets, fridges, pantries, and bathrooms.
So even though I initially dragged my feet on buying organizing bins, when it was free and less wasteful to re-use boxes, I found a win-win.  My old containers were put to use in other ways, such as dividing drawers or holding clothes to give away. And I was able to spend relatively little to create a more calming and efficient household.  When things are orderly and attractive, we're less likely to go shopping and more likely to use what we have.
So the next time you have the chance to choose storage containers, remember the three-S motto — stackable, see-through, square — and think about whether the change might save you time and space too.