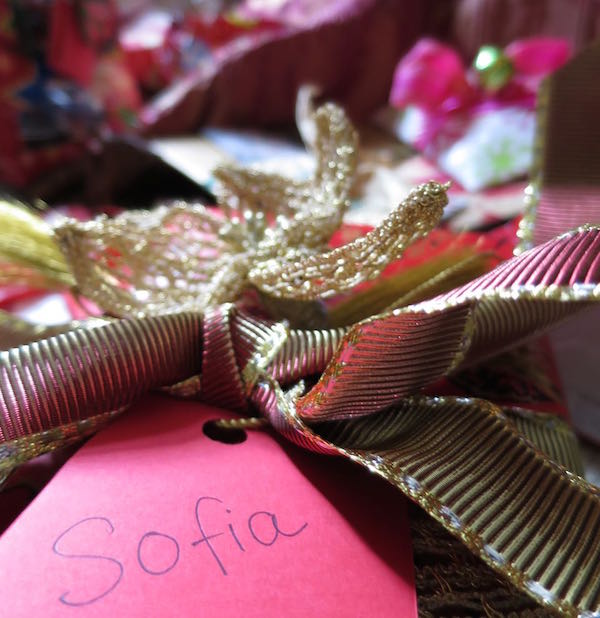 Since I've already told you about my favorite anti-Stuff gifts such as month-clubs, experiences, and coupon books, I thought it would be fun to share some regular, wrap-it-up-in-a-box presents.
To compile this gift guide, I asked former Frugal Mama contributing writers for their best ideas, and I added our family's most durable, versatile, and loved gifts. Here goes!
For Babies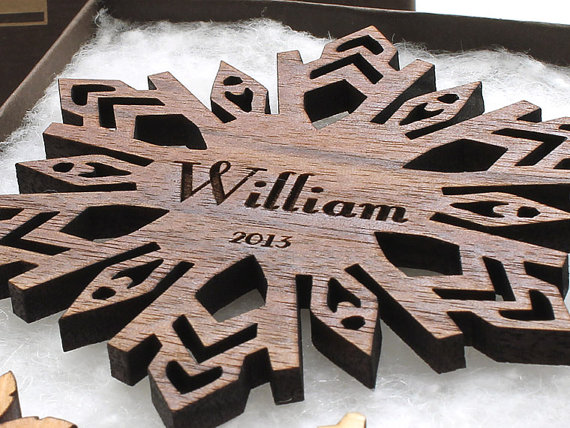 "There are lots of babies in our extended family," says contributor Rayna St. Pierre, "and for them I like to contribute to their college savings accounts (529s) and add on a personalized ornament or stocking."  (Pictured is Baby's 1st Personalized Ornament by the Timber Green Woods Etsy shop)
A Baby for a Baby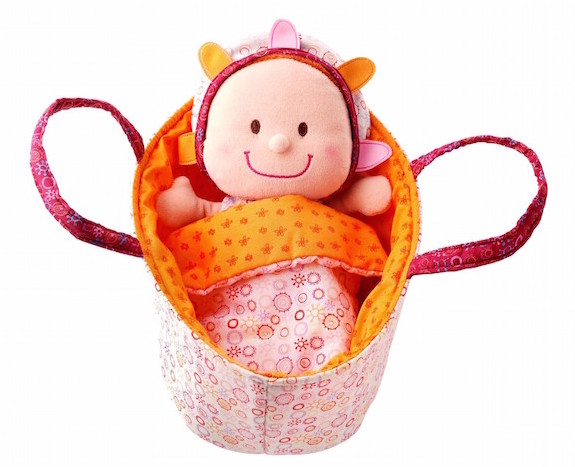 We gave Diana this cloth rattle doll in a moses basket last year (Lilliputiens Baby Eline by Haba, $30) as an antidote to all the toy cars and trucks around here.  She was only six months old, but she instantly knew what to do with it: give it a hug!
Personalized Baby Blocks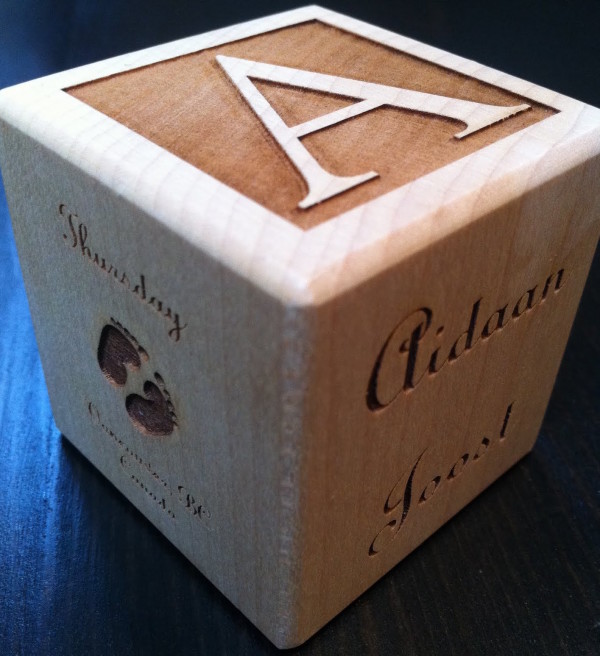 Contributor Samantha Sand loves giving custom wooden blocks that memorialize a new baby's birth.  These maple blocks from Craft-E-Family ($20) are made by a family-run business in Indiana.
Homemade Board Book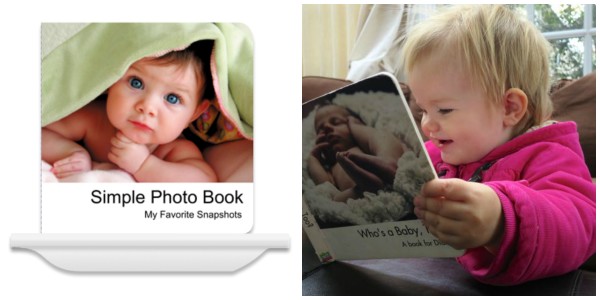 This book that I made for Diana last year is already all dog-eared.  (She can now flip through it by herself, as you can see in the photo above.)
I made the book at Pint Sized Productions ($25) by uploading baby pictures of our children and my husband and me.  Then I wrote some text about how her sisters and brothers and parents were babies once too.
You could also use pictures of animals or even kids' drawings to illustrate your story.
For Toddlers and Preschoolers
Besides our mainstays of imaginative play, such as  dress-up clothes, cars and trucks, and stuffed animals, here are some toys that have stuck around longer than the rest.
Magnetic Blocks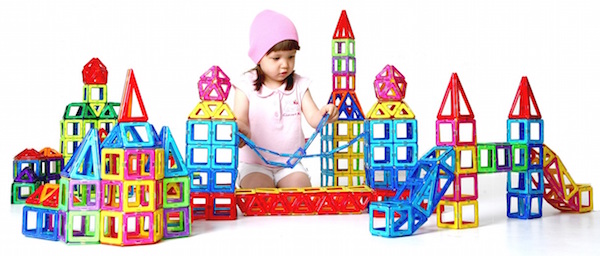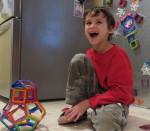 It doesn't seem to matter which iteration of this idea you get — Magna-Tiles, Magformers, or Tegu — kids love building and rebuilding with these ingenious blocks.  Contributor Samantha Sand of Digital Zen is also a fan:
"Magformers are not inexpensive, but if you consider how much time our kids have spent playing with them, they rank as most valuable toy set in our house," says Samantha.

"Inside each piece are rotating magnets, which means there is no wrong way to put any two pieces together. The hold is strong, the colors bright, and they're centrally located in our kitchen attached to a magnetic oil drip pan (about $10 from Jiffy Lube or other auto supply store)."

"My advice would be to spend a little more to get a kit with more than 30 pieces, like the 46-piece Carnival set. That way your kids can build lots of different things with it and fuel their imagination."
It's worth noting that magnetic blocks can be found second-hand at a steep discount.  eBay has new-in-box older models, and my sister found a used set at a thrift store for $10.  She felt like she hit the jackpot, and it's hard to say who likes playing with them more — her son or her husband!
Pet Hospital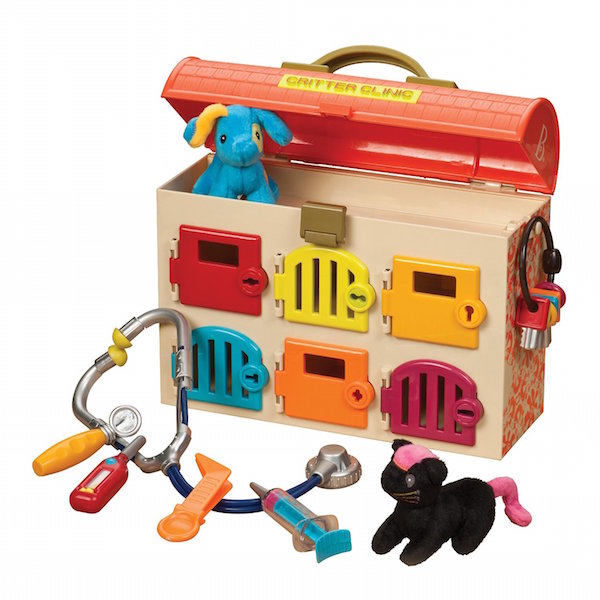 I can't believe that I'm including a plastic vet hospital in this round-up, but it's one of the most long-lived toys in our household.  Some of the doors have broken off, and the thermometer doesn't work anymore, but this animal hospital we got from Target eight years ago is now entertaining its fifth child.
It's pretty cute how tiny stuffed animals get tucked into color-coded compartments, which can be opened and closed with the matching colored key. Kids can play doctor with small stuffed animals, or use the medical equipment for other games.
Mini Scooter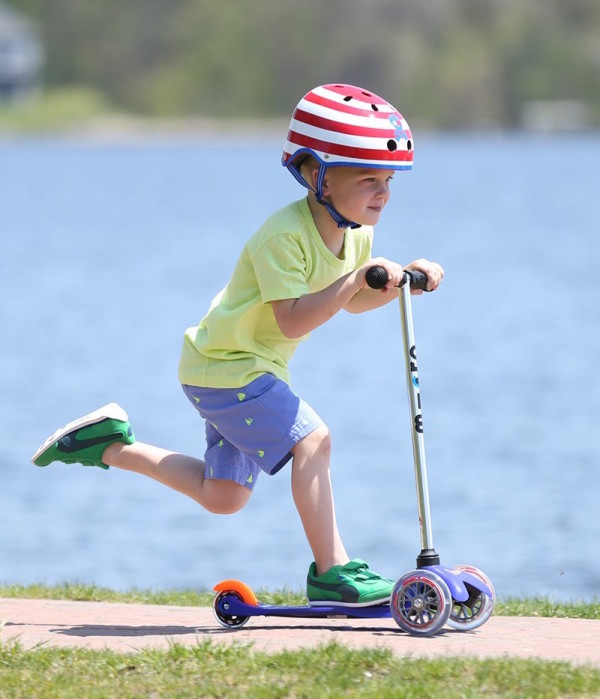 I love these Mini Micro scooters.  We have two of them, and while they're not cheap at $75, they are the best for young kids (3-5 years suggested, but we gave Mark one when he was 2 years old, and he was totally capable of riding it). Mini Micros get the best ratings and lots of awards, for good reason.
The three-wheel design makes it easy for kids to lean into curves, using their body weight to turn left or right.  The wheels are made of soft rubber so kids can even take a quiet ride around the house.  One of our scooters is five years old and still going strong.  Parts are replaceable, so these scooters could have a very long life indeed.
Simple Board Games
Playing board games is a great way to bond with kids, away from the distractions of screens and chores.  Board games also help kids learn about taking turns and losing gracefully, says former first-grade teacher Janae of I Can Teach My Child, and they reinforce concepts like counting, color recognition, and matching.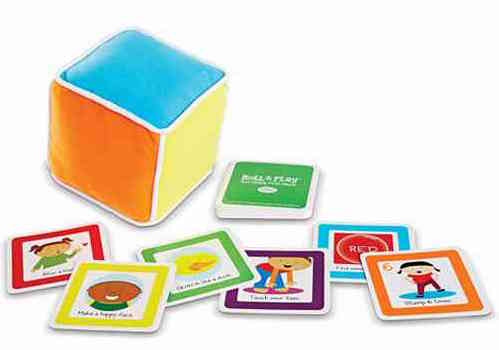 For a first board game for children as young as 18 months, Janae recommends multiple award-winner Roll & Play by Thinkfun (pictured above, $20).  To play, kids toss the big plush cube and identify which colored side faces up. They choose a matching color card and then perform the simple activity shown, such as "Make a happy face" or "Moo like a cow."
Samantha Sand of Digital Zen also recommends You're Bugging Me:

"Both my kids enjoyed playing at age three (even though the box says four years and up)," says Samantha.  "No reading skills are required and the giant die is perfect for chubby hands."

"Up to four players start out with six bugs that you wear on a felt sleeve on your arm. The object is to be the first player to get rid of all her bugs. From centipedes to butterflies, preschoolers love these bugs, and everyone loves trying to stick Mommy with the cockroach.  Ewww!"
To these recommendations, I would add some favorites from our household: colorful snake-making game Hisss, no-reading-required strategy game Sequence for Kids, and fast-paced bingo game, Zingo.
For Elementary School Kids
First Bicycle with Training Wheels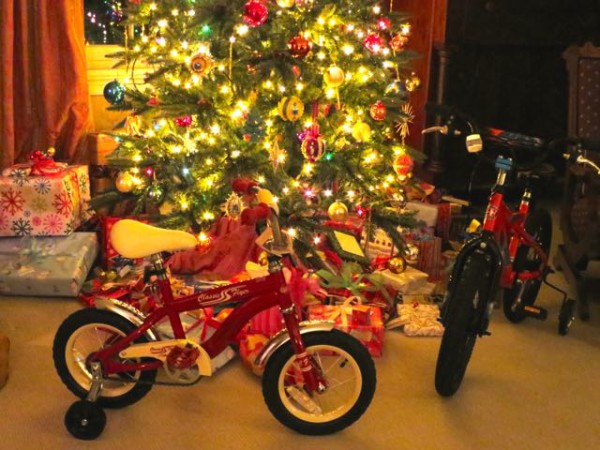 It's a classic, and it's still a win-win gift for kids and parents.
After the 47th time my son Mark asked for a bike last year, I figured it was going to be something that he would actually use.  Thankfully that hunch was true.  We got both Mark (6 years) and Luke (3 years) a training-wheel bicycle last year, and they continue to entice the boys to run outside and play.
I found Mark's Schwinn and Luke's Classic Flyer by consulting ratings and review aggregator, ConsumerSearch, and we've been very happy with the quality.  I would also recommend consulting a local bike store, if you have one.  They can recommend the best fit for your child and will likely be there for repairs.
Play Kitchen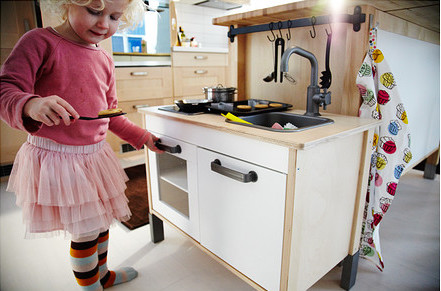 Contributor Jennifer Roberts of JenSpends gave us her best recommendation for toys that last:
A play kitchen is an excellent gift idea for a boy or girl. My oldest son received his as a Christmas gift when he was 18 months, and now at age five, it is still one of his favorite toys — he runs an imaginary restaurant out of his playroom.

A pretend kitchen encourages imaginary play and can even inspire healthy eating habits. With the wide variety of play food sets and kitchen accessories available, you'll have gift ideas for years to come.
Looms and Legos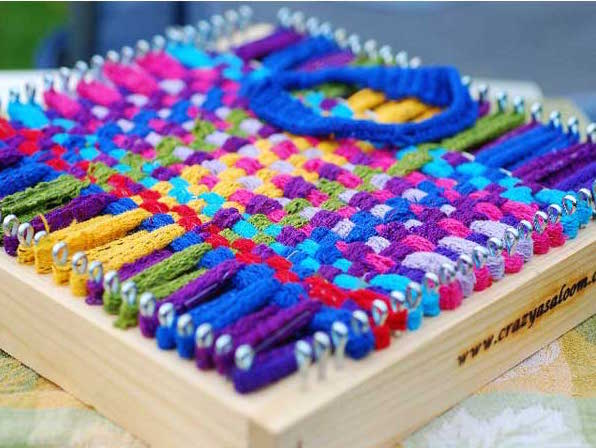 Contributor Rayna St. Pierre's favorite gifts for middle-years children are LEGOs and loom kits.
We have several looms at our house, and I think the most accessible, lasting one is the classic potholder loom.  Believe it or not, my mom and I are still using the potholders that my daughters made.  You can make teddy bears with the woven squares, or stitch them together to make quilt-like blankets.
Another idea is the new Loop de Loom.  I've never tried it, but it apparently makes weaving faster with its spinning pegs.  Kids can make purses, camera cases, and scarves.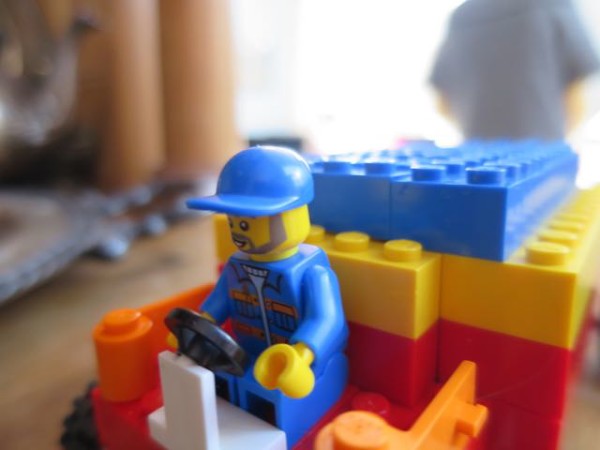 LEGOs are another classic toy that encourages hours of imaginative play.  Once the perfect models are created, I love the destructive and creative re-building that ensues.  For younger kids, try LEGO Juniors.
Walkie Talkies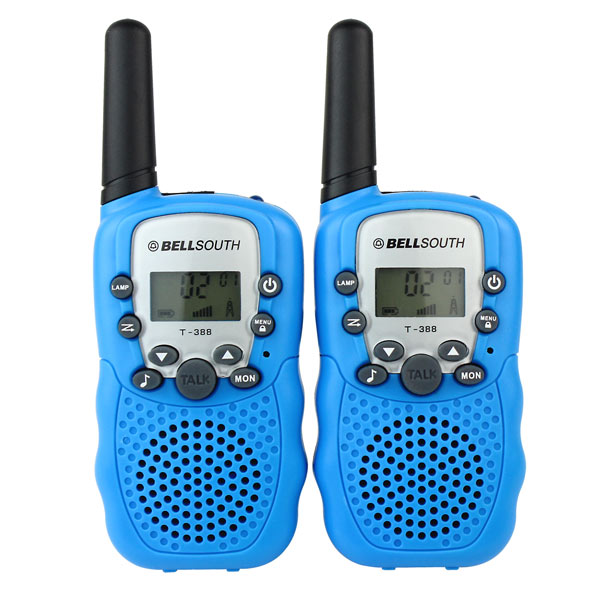 "Huge hit," says Samantha Sand, "especially with younger school-age boys. It's hilarious listening to my son and his cousin pretend to be emergency response workers and say things like, 'Code Red! We need you! Over and out!' and 'Copy that! I'm on my way!'"
For kid-oriented Walkie Talkies, try Comms Expert Long-Range Field Walkie Talkies or Super Spy Long Range Walkie Talkies (both $50 at YoungExplorers.com).
For Older Kids
As kids get older and more sophisticated, it's tempting to up the ante and get into electronics as gifts.  But it is possible to hold off on hand-held computers yet still make the holidays special.
Experiences, such as classes, activities, concerts, and special events, are great choices for this age group, says contributor Karen Falter.  But if you're looking for something they can "play with" right away, here are some ideas.
Beanbag Chair or a New Bedding Set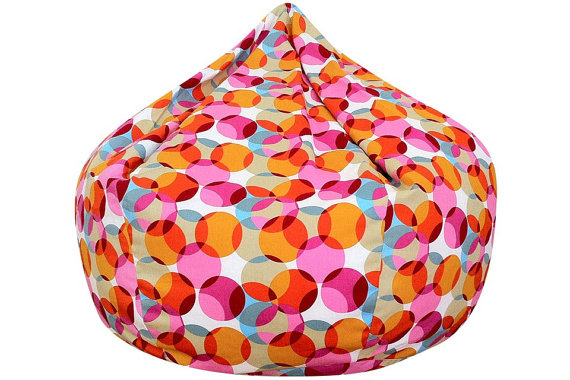 Kids love the cocooning comfort of beanbag chairs, and they're great for both hanging out and even doing homework on their laps.  If you already have a beanbag, update it with a new cover.
There are lots of fun and unusual covers available at Etsy, like the one pictured above ($142 at the ChoosyShop).  If you'd like your child to choose her own beanbag, you can wrap up a hand-made gift certificate and then go shopping together.
The gift certificate idea could also be applied to new bedding, such as sheets, shams, duvet covers, or a bedspreads.  Setting a fixed amount that can be spent on the new items helps children learn about managing money, shopping around, and making compromises.
Board Games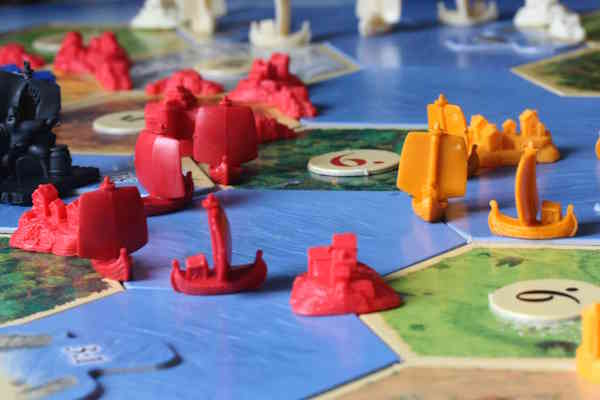 Sara Tetreault, creator of Go Gingham – Stylishly Frugal Living, and her family are big game players.  Her children are now teenagers, so Sara recently pared down her game cabinet.
Here are the games that made the cut and why, plus her tips, tricks, and personal favorites:
Skip-Bo:  Good for young and old.  A fun game about luck, not so much strategy.
Sorry:  Another good game for young and old – and again, all about luck. Tip: For a quick game, use only two pieces instead of three.
Monopoly:  A timeless classic.  Tip:  Make a shorter game of it by dealing out properties at the start of the game.
Sequence:  Good for teams – adult with young child works well.  No "table talk" is a rule but everyone's non-verbal eye signals seem to get honed here.
Rummikub:  Similar to gin rummy but a board game with tiles. This game is all about sets and runs – good for math skills, and good for all ages.
Bananagrams:  With tiles contained in a banana-shaped bag, this fast-moving game is all about spelling. Think Scrabble but easier, free-flowing, and no waiting for your turn.
The Settlers of Catan:  This is a family favorite now that we have teenagers. It's a kind of medieval Monopoly where people trade properties with resources.  (Seafarers of Catan is pictured above.)
Taboo:  Fun for older kids or a family game night with friends.  Adults and kids like to buzz each other when you say the wrong or "taboo" word.  Tip: Teams with a mix of ages make this fun for a game night with another family.
Blokus:  My personal favorite, this is the board game of Tetris.  Get the pieces to fit and block out your opponent's pieces. It's all about board domination and using spaces. Good for four players.
Yahtzee: Everybody loves Yahtzee!  Math and yelling are required for this fun game.  Tip:  If playing with young children who can't yet write, pair up with adults or older kids.
As a bonus gift, Sara suggests the book Hoyle's Rules of Games.  "It has rules for every card game or parlor game imaginable," Sara says.  "We travel with this book and try to learn a new game wherever we go."
Gymnastics Mat, Trampoline, or Tree Swing
Any of these active play ideas are great for getting more sedentary kids out in the open air and working their bodies.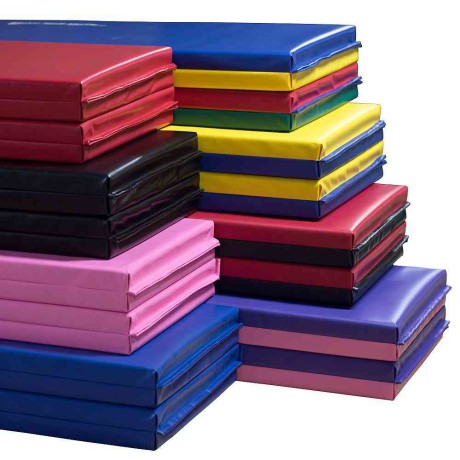 Our gymnastics mat, a gift from my parents to my older girls when we lived in a place with long winters, is now the centerpiece of our newly organized garage. Sofia and Virginia do cartwheels and practice their jazz dance routines on it.
They were also given rhythmic gymnastic ribbon wands.  They're so fun to whirl (and watch) and would be a great accessory for this gift, or just alone.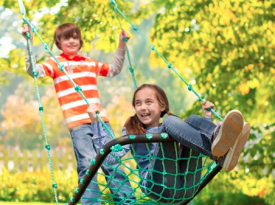 Trampolines with tall surrounding nets are considered safe (and still fun for teens).  When my kids are playing outside at someone else's house, chances are a trampoline was the draw to the outdoors.
And if you have a good backyard tree, I think a tree swing like this one from HearthSong would be awesome.
Fashion Sketchbook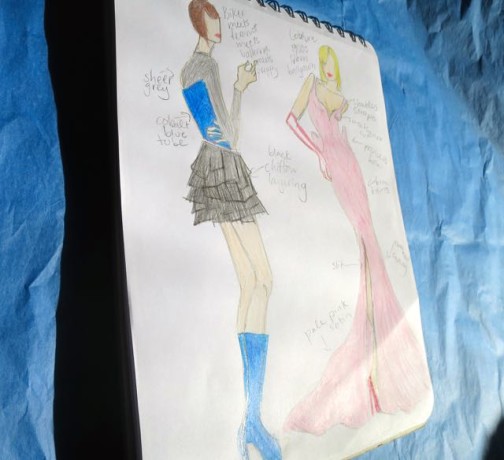 Virginia (10 years) received this Fashion Sketchpad from her Aunt Jenny last year. Here we are a year later, and she is still designing outfits, like this "biker meets feminist meets ballerina meets preppy," and the "Couture 1900s prom ballgown."
It has been a great creative outlet for both Virginia and her sister Sofia (12 years), who later received the pocket version.  I like the simplicity and professionalism of the pad.  Hundreds of pages of figure templates eliminate the need for light boxes or tracing paper, and kids can get an even more professional look by photocopying or scanning the drawings, when the faint templates disappear.  The Sketchpad also includes an illustrated glossary of all sorts of garments like caftans, sheaths, and maxis.
The key to a successful gift, says contributor Karen Falter, is not finding something unusual or spending a lot of money.  The key is figuring out a person's interests and finding a gift that the person would really love.
If you're looking for some meaningful, clutter-free gifts, you might want to be inspired by these other ideas:
3 Fantastic Gifts that You Can Easily Make at the Last Minute
Holiday Giving: 7 Ways to Spend Less on Gifts and Still Be Generous
Got Enough Plastic Toys?  Try These Notes Instead of Stocking Gifts
How to Make a Coupon Favor Book to Give to the Kids
Simplify Giving to Teachers and Friends: a Loving Low-Cost Solution
Clutter-Free and Almost-Free Gift Ideas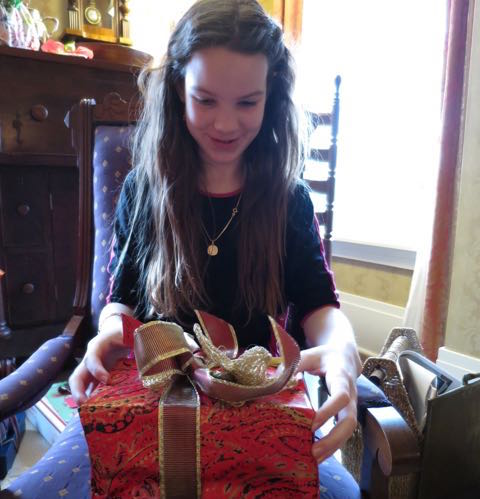 Finally, if you're looking for a way to prevent gifting from getting out of control, think about the formula Want-Need-Wear-Read.
Giving a child something she wants, something she needs, something to wear, and something to read is a guideline adopted by Kara Fleck, editor of SimpleKids.  It doesn't have to be followed to a T, but I like how it helps keep Christmas simple and sweet.